Activity Tracker
This modern lifestyle product with OLED display will make your friends envious and will join you during day and night, supplying you the following data.
Heart-Rate Belt
The elastic, comfortable to wear chest strap is a perfect multi-tool for your sports activities. Wireless data transmission of your heart rate with Bluetooth Smart 4.0 to your smartphone or with 5,3 kHz to other fitness devices are offering you the possibility to check your heart rate zones of your practice.
Diagnostic Scale
Our scale provides you with some of the most important data which is helping you to stay healthy: weight, fat percentage, water percentage, muscle percentage, bone mass, body mass index, basal metabolic rate (calories burned in hibernation) and active metabolic rate (calories burned in a normal life-day).
GPS Watch
The GPS watch starts with very less steps and informs you always actual about the distance covered, the time, the speed, calorie consumption and much more. You can also set the heart-rate zones, to stay within the optimal pulse zone. The elastic, comfortable chest strap is a perfect multi-tool for your sports activities and transfers the heart rate to the watch.
Blood Pressure Monitor
This handy device is a must for all health conscious people! We are offering you a product with the most modern technic with functions which enable you to monitor and save your heart function data.
Analogue Smart Watch 1.0
This watch supports you by daily activity and sleep tracking (deep, light, wake). You can set individual daily goals for steps/distance/calories with the app. The progress indicator showing actual info concerning the set goals are reached.
Pulse Oximeter
You have the arterial oxygen saturation (SpO2) and the pulse rate always in view. Very simple handling and completely pain-free measurement. Also for sports at high altitudes (e.g. Mountain climbing, skiing).
Analogue Smart Watch 2.0
Additional functions - Search watch with Smartphone - Remote shutter for camera of Smartphone - Automatic time sync - 3 daily alarms - Bluetooth 4.0 connectivity - rechargeable lithium-ion-battery, battery charge lasts around 7 days - charge via USB adapter (included)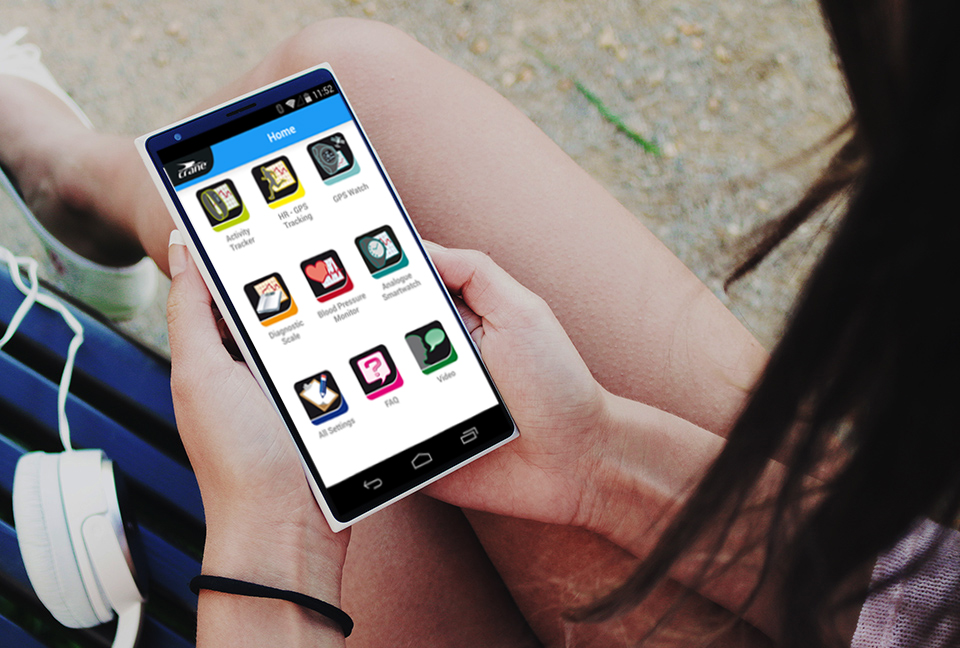 ONE APP FOR ALL PRODUCTS
Automatic pairing with smartphone with Bluetooth Smart 4.0 is offering you maximum comfort. Detailed reports are displayed on your smartphone and on these webpages. Your data is saved in the cloud, so you will not lose it even you change or lose your device!
Important: The app is working with iPhone 4s upwards and Android phones version 4.3 upwards. A detailed list with compatible smartphones you can find on this website in the section compatibility
GET THE APP